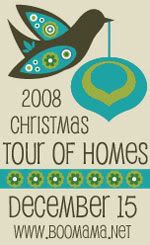 Last Friday night, I had to miss our Sunday School class' Christmas party because our daughter wasn't feeling well. I really hated to miss it, too. However, I seem to be making up for it this week, since it seems there are Christmas parties around every corner in BlogLand!
BooMama
is hosting a Christmas Tour of Homes over at her place. I'm sharing a few things from our house.
Here is the garland on our piano. We don't have a fireplace, so we dress up the piano like a mantel. I shared my garland over at The Nester's Garland Show and Tell, but I added a bit more to it since then, and I think it looks much better. Not as
puny
understated as before.
This is our tree. Every ornament is different.
Here are a few of my favorite ornaments:
a Shepherd that was a gift from my mom
a Santa with a dreidel that my Father-in-law brought back from Denmark many years ago
a cardinal (I've developed a love of redbirds this year)
And finally, my nativity that I've had since I was a little girl:

And Ol' Saint Nick watching over it all!